The latest.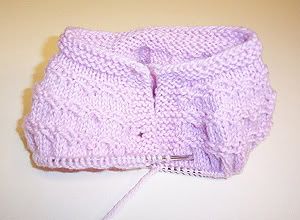 I know, I know. I've knit this pattern so many times that anyone out there is probably yawning just looking at this. But seriously. I LOVE this pattern. So easy! So genius! So fast! And so cute, but what wouldn't be, knit in pink?
So. If anyone out there knows me, you know I have a, um, completion problem. I start lots of things, but then I get bored and never finish them. I still have yet to finish my first pair of socks. I have not finished the fiery bolero (though my interest in it has definitely waned now that I am thinking of all wool, all the time). There are countless others in the knitting bag that have not seen the light of day in some time. Like the woolspun turtleneck. Some of you out there may know this turtleneck. It was going to be my very first sweater that I ever knitted, and it was started about two years ago, right after I learned how to knit. The pattern is a freebie from Lion Brand, and it is knit with Lion Brand Woolspun. Now. I am embarassed to say, that way back when they discontinued this yarn, I went on a bit of a...shall we say,
frenzy
, buying up all that I could find. I have over 40 balls of assorted colors. Alas, all that yarn, and the turtleneck has not yet come into being. It is currently sitting, the front and back finished and one sleeve begun, in pieces in my knitting basket. Part of the problem is that I realized, now that I am
slightly
more experienced than a beginner, that the front and back pieces are way too long. Now, I don't have
enough
experience to shorten them by grafting, so as the blogosphere is my witness, I vow to rip and re-make the woolspun turtleneck as my next project. I really still love that yarn, and I'm going to use it, darn it!
Other than that, we are still trying to get back into the swing of things at home. Trick-or-treating was loads of fun on Monday, even though we only got around 30 kids. My favorite costume was a preteen boy who was wearing a plain box, duct-taped to himself. When we asked him what his costume was, he said "I'm a box." Okay then. I wish that we were still in England. We loved York the best of anywhere we went, and I can't wait until we have the opportunity to go back there, and also to explore more of the northern part of the country and Scotland. I'll leave you with some more honeymoon shots:
unprocessed sweaters grazing by the stone circle in Avebury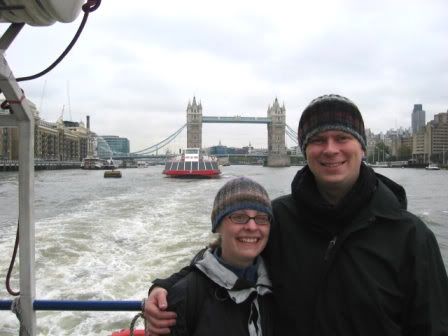 two of the Noro hats travel to London to see the Tower Bridge
Have a great weekend everybody!