Getting there...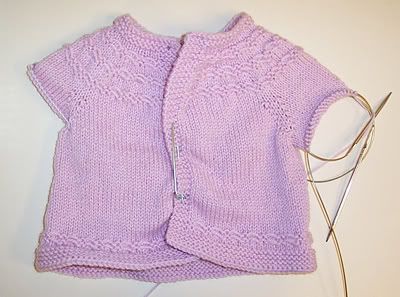 The baby sweater's coming along and I am hoping that I can get this done, blocked and mailed out to the new wee one by the day after Thanksgiving. That's a tall order for me, and every time I set a date for when I will finish something, I fail miserably, so we'll see how it goes. I just want the baby to be able to have it while she still fits in it.
Meetup was fun this week- met and knitted with some ladies I've met before and some I haven't, including
Betsy
and
Lynn
. Thanks to everyone who attended- I had a great time.
Oh, and the Handmade Arcade was also very fun, and much bigger (i.e., more vendors) than I thought it would be. I got a cute wooden toy for my nephew, some notecards with London maps on them for myself, and some gorgeous Christmas ornaments for our tree from a woman whose business was called Flake. I have her business card and hope that I can buy more from her. They are made out of vintage fabric and pipe cleaners and I took photos of them, then forgot to download them. Oops. Anyway, it was a good time and I am looking forward to going back next year.