Hey tubey!
I finally got to work on Tubey again last night while Lori and I knitted. I bound off on the first sleeve after trying it on, then unraveled the crochet cast on, which was a pain in the ass. The wool fibers really stuck together, so it didn't come out as smoothly as I'd hoped it would. Also, somewhere I lost a stitch. Neither I or Lori could find a dropped stitch, though we looked it over several times, so I can only assume that I lost it due to the slipped stitch at the beginning of each row. I made a stitch, but it bothers me that I had to do it, and it probably always will. However, in the interest of progress, I guess I can live with it. I'm about an inch or two in to the second sleeve now, and here's what it looks like: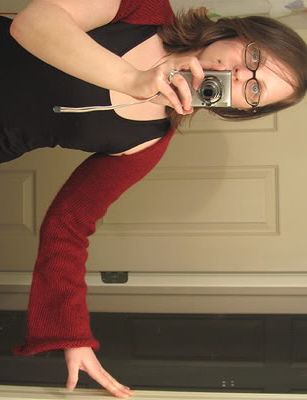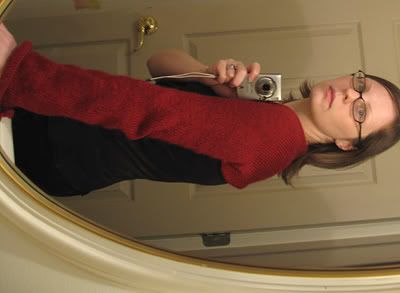 The edges of the sleeve and back are really curling, despite a row of purl on the sleeves before the bind-off. I am hoping that a good blocking will correct that and I think that the back rollage will be taken care of when I pick up the stitches for the body.
Thanks for your comments on my car photo. That was fun, though I wheezed and hacked for about three minutes after I did that. So sad. Hope that everyone's "training" for the olympics is going well!