Liar, liar...
Remember
the post
wherein I
swore
that I was next going to knit a sweater from the stash that I already had a pattern for? I lied. I've been
seduced
.
I wasn't really feeling the stripes, though I did think about knitting the body in Silk Garden or Kureyon. I decided instead on an all solid version and wanted it to be easily washable, which led me to Brown Sheep Lamb's Pride superwash. I loves me some Brown Sheep and the gauge seemed right, so I lost no time in placing an order to Webs for some in Shane's Red. On a side note, this was my first order from Webs and I was very, very satisfied. But I digress. Though the yarn arrived before Christmas, I didn't get to swatch until last week: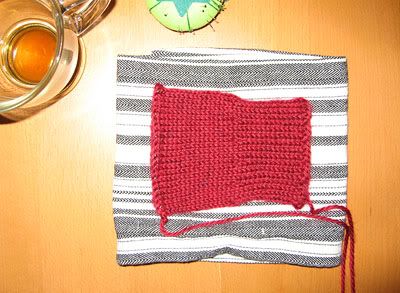 The gauge is almost perfect, and boy does this yarn wash and block well. I swatched in the round with both stockinette and 3 x 1 rib. I got Lori to help me take the across-the-back measurement, then got started on the way to visit Mark's grandparents in Ligonier on Monday: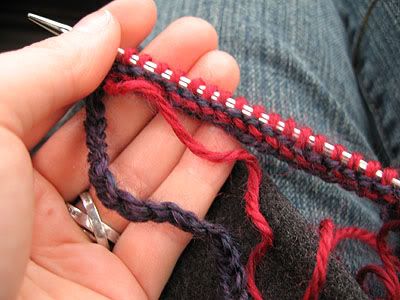 That's a shot of the crochet cast on, and boy I hope I did that correctly! Took me a minute to figure out what the heck she meant, and the fact that I am not a crocheter didn't really help the matter either. Incidentally, we did not stop at
Kathy's
as I thought it would be best to save myself the agony of temptation.
Here's a shot of my progress as of today:
I'm not even halfway finished with this section, which will make up the top of the back and edge of the collar. I am a pretty slow knitter, and a slower purler, so I am looking forward to the part where I can start knitting the tubes.
In reading news, I am currently making my way through the
Yarn Harlot's
second book, which was a Christmas gift from my mother. I am positive that the people on the bus now think that I am a total lunatic. First it was the obsessive knitting, and now, the blatant snort-laughing as I read. Perfect.