Extra, extra! Actual knitting progress made!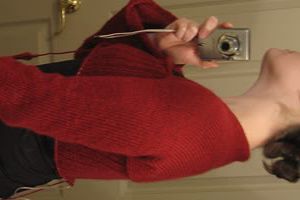 Here's where I am with Tubey. It's getting to be very cumbersome as bus knitting, so it is hereby retired to home knitting. Unfortunately, that means that my progress will be slower since I get less time to knit at home than I do on the bus and during my lunch hour. Anyway, I am fairly pleased with the way it's fitting so far, so maybe that will get my ass in gear to finish it.
It's been a busy weekend here at the old homestead. In addition to nursing another cold, we did some work on our TV room, including cleaning down the walls and baseboards, painting, shampooing the carpets and installing a new ceiling fan. Now I just need to get it together and find some furniture to go in that room. It's not quite large enough for a full-size sofa, and loveseats are too small, so I don't really know what we will be doing with it yet. I have two comfy chairs that need to be reupholstered also - anyone know a reasonably-priced upholsterer in the eastern suburbs (Lawrenceville, Etna, Blawnox, etc.)?
But all work and no play make Jen a dull girl, so we decided to treat ourselves to
breakfast
on Saturday morning and then do a little grocery shopping at our favorite
highly-priced food store
. While we were in the general area, we stopped at another favorite store for a treat:
Man, I love that store. Now, I know that I've publicly sworn off all needles that are not Addis before, especially when it comes to bamboo double points, but I can explain (they didn't have any metal dpns). I've been thinking about my post-Tubey knitting, and I came to the conclusion that I would really, really like to start and complete a pair of socks. The same day that I was thinking this, I came across
this link
on
Becky's
blog. Maybe this is just what a really, really remedial sock knitter needs? Tune in to find out!