I heart socks.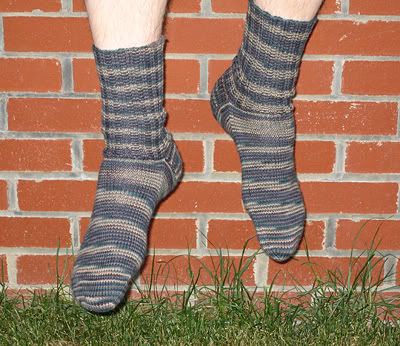 Pattern:
Kristin's sock tutorial
at www.cometosilver.com
Yarn:
Knit Picks Sock Memories in Cape Cod
Mods:
None.
So, Mark likes his socks. Mark says they are nifty. Mark says that they make his feet feel warm and slippery like a seal in autumn. Right.
Me, I just can't get enough socks. I've cast on for the next pair already with the Daikeito and am looking for a relatively easy and simple stitch pattern (no lace) to really show off the gorgeous Koigu that Lori gifted me with a few weeks back. I don't think that I am ready for the Pomatomus pattern, even though
SJ
says it's not that hard. Check out her
stunning finished Pomatomus
.
Thanks to
Carrie
and
Holly
for the NYC yarn store recommendations. I am definitely going to make the journey to
School Products
, since I've heard so many good things about it, but I am hoping to cram in as many shops as possible in the time that we have free.
To everyone going to Maryland Sheep and Wool this weekend, have a great time! I will be envying each and every one of you!