Finished. Finally.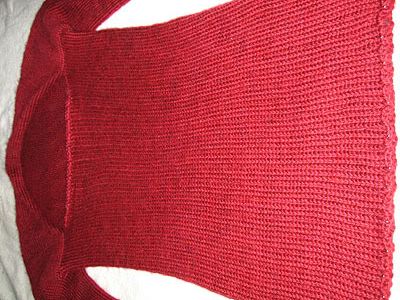 That's Tubey, blocking. Modeling shots to come soon, if it actually fits me.
Until then, I will share some recent stash acquisitions: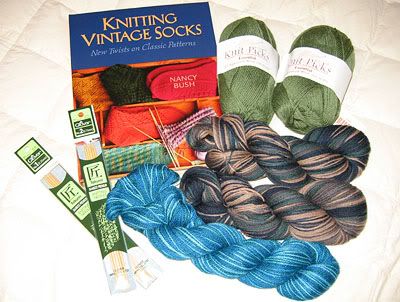 All from Knit Picks, that's some Essential, Sock Memories (in the Cape Cod colorway) and Shimmer, along with Nancy Bush's book,
Knitting Vintage Socks
and some new double points. I would just like to say that it seems to be nearly impossible to find shorter (6"), metal dpns in size 0, 1 or 2. If anyone knows where I can procure some of these elusive needles, please leave a comment. Extra thanks if you can tell me where to find Addi steel dpns in that size and length. The Sock Memories yarn is for a pair of promised socks for the husband, and I just couldn't resist that color green, so that is destined to become something out of the Nancy Bush book. The Shimmer is for a lacey scarf for my mom, who's previously hinted at wanting one. I'm still not sure what lace pattern I'll use yet, but it's really looking like feather and fan.
Also, there's this: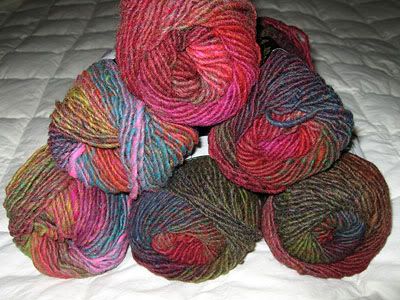 Did anyone else out there know that Webs was having an overstock sale on Kureyon last week? $5.50 a ball! Naturally, I couldn't help myself. In other yarn/knitting purchasing news, I finally bit the bullet and ordered myself a ball winder. The thought of winding that Shimmer into a ball by hand was just too much for me. Soon all of my yarn will be in pretty yarn cakes.
Oh yeah, and one more thing:
"Stephanie Pearl-McPhee is coming to Knit One at 2721 Murray Avenue in Squirrel Hill 412-421-6666 on Friday April 7 at 7 pm. She will be doing a talk and presentation and a book signing for her new book "Knitting Rules." There is no charge but if you are able please bring a can item for the Greater Pittsburgh Food Bank."
I'm so there. Anyone else planning to go?