Happy feet
Because socks can't make you feel fat and lumpy: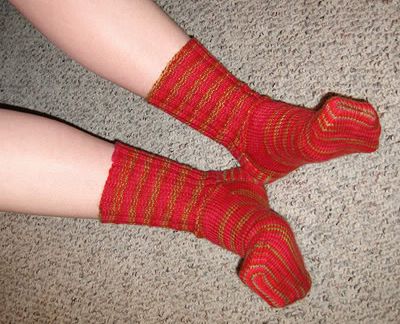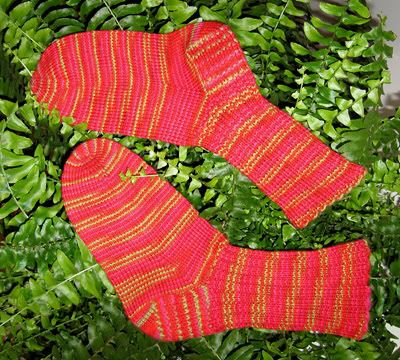 Pattern:
Kristin's wonderful sock tutorial
at www.cometosilver.com
Yarn:
Knit Picks Sock Garden in Geranium
Love, love, love(!) these socks. The yarn is so yummy and soft and the colors are so happy. Kristin's tutorial is awesome for beginning sock knitters. I've cast on already for the husband's socks using the same recipe, and I will be working on the first sock of his pair tomorrow, while listening to the Yarn Harlot. Hope to see some of you there!
Oh yes, thank you again to all of you who made very nice comments about Tubey. I am very proud of my knitting job on it, so all is not lost. I feel a huge sense of accomplishment since it's the largest knit that I have so far managed to complete. Maybe I will feel better in it by the time it is cold enough to wear it again :)