It fits, kind of...
Thank you all for your nice comments on Tubey. It does fit, but on me, it's not so flattering: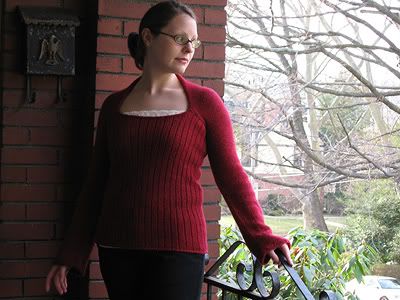 Pattern:
Tubey
by Cassie Rovitti
Yarn:
Brown Sheep Lamb's Pride Superwash Wool in Shane's Red
Mods:
I combined two sizes, using the medium for the shrug part and the small for the body. I also knit a few rows of seed stitch for the sleeve cuffs instead of the purl row, because it was still awfully curly with that purl row.
I've gained some weight in the past few months (post-wedding bingeing), and I am now heavier than I've ever been, so I am pretty self-conscious about my body to begin with. This sweater does not really help matters. In short, it makes me feel lumpy and fat. Mark and I have been exercising, and unless I can get back down to my pre-wedding weight again by next fall, I don't really see much, if any, Tubey wearing in my future. I guess that's incentive to lose the weight, if nothing else!