My Excellent Harlot Adventure
On Friday after work, I met Lori at Starbucks where she surprised me with some wonderful gifts from her recent trip to Portland and San Francisco. She gave me some lovely arts and crafts-style bookplates from the de Young Museum in San Francisco and this: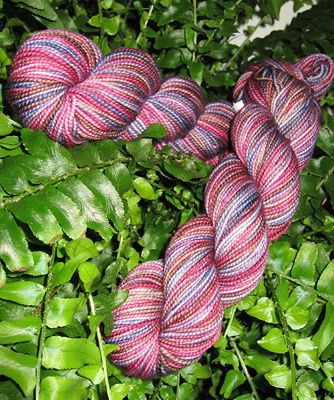 She knows I covet the Koigu, and there's a shop in Portland called
Knit-Purl
that has
so many pretty colorways
in stock. What a wonderful friend!
We left Starbucks and walked to
Knit One
, which was already jam-packed with people waiting to see the
Yarn Harlot
. Lori and I found some seats in the front windows and before long, the Harlot herself came out. While we couldn't really see her unless we ducked around and peered through a display, she did not disappoint. She's just as witty and funny in person as she is on her blog, and it is nice to now be able to put a voice with a face.
In addition to seeing Stephanie, I also got to see/meet some local bloggers. I met
Yvonne
for the first time: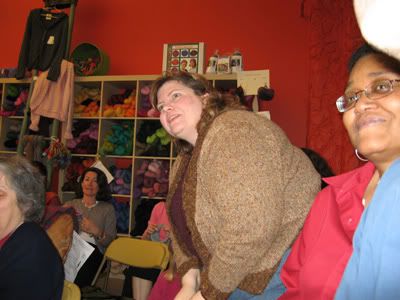 and I saw
Jane
: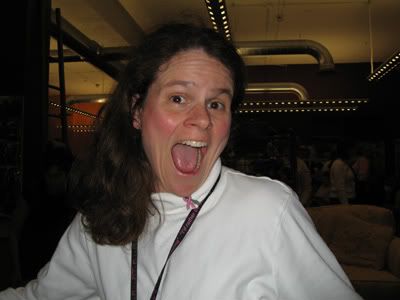 After Stephanie spoke, a line formed for her to sign books. My sock and Lori's newly purchased Cotton Glace surveyed the line (which you really can't see in this photo, but it was mighty long):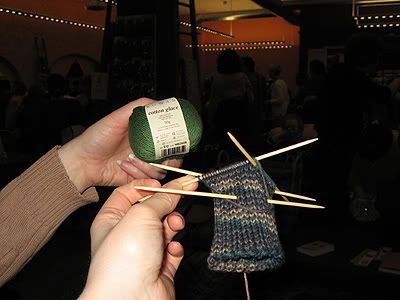 But it was late, and my stomach was growling fiercely, so I decided to forego having my book signed, and Lori and I went to dinner, which was excellent. Here's the closest I got to the Harlot, while on the way out the door:
All in all, it was a most excellent diversion for a Friday night, as I am usually asleep by 9pm most Fridays (I know I'm sad). Viva la Harlot!