Meet our other new best friend.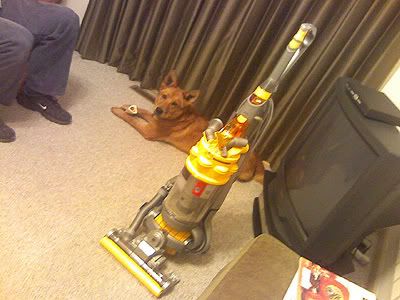 No joke,
Amanda
, I read your comment right after we brought this lovely vaccuum home. Trust me, you weren't the first person to advise us to get a Dyson. We'd been wanting one for a long time (in fact, we'd registered for one for our wedding but didn't get it then), and we finally decided that we had an excuse to get one :)
Here are the details. Stella is a one-year old German shepherd/chow mix, according to the Western PA Humane Society, which is where we adopted her from. I personally think she is a little more "Heinz 57" (57 varieties) than that, though. She suffers from a little separation anxiety, but we're working on it. She's been just wonderful! Thank you all for your comments - we just love her!
Not much time to knit as of late, but I promise I'll actually have
something
knitting related in this space soon!