Back to the grind.
We're back from the Finger Lakes, and our trip was amazing. We had perfect weather, the wineries were great, we saw some
gorgeous
waterfalls
, and our
inn
exceeded my wildest expectations. Mark was kind enough to take a photo of me modeling my new socks along the shore of Cayuga Lake: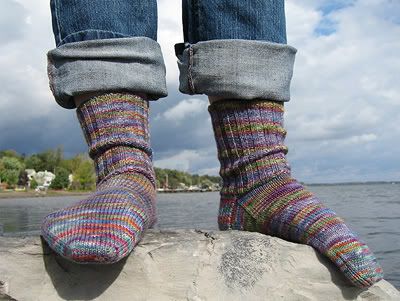 So, Mark and I have been to the Finger Lakes several times, but I never knew that Interlaken, NY, in the heart of the Finger Lakes, was the home of
Schaefer Yarn
. We've probably driven past it a dozen times. As we were driving through one of the lake towns, I spotted a yarn shop called Finger Lakes Fibers. Mark was good enough to indulge me so that I could check it out: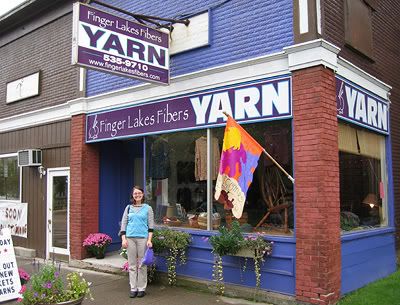 The shop owner had labeled all of the local fiber and yarn as such, and I spotted the mass quantities of Schaefer Yarns with the local tags: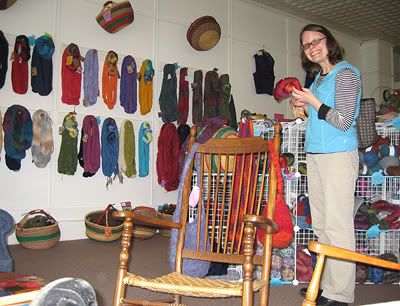 I had a nice chat with the owner about the yarns, and left with a pretty little skein of Anne that caught my eye as soon as we walked in: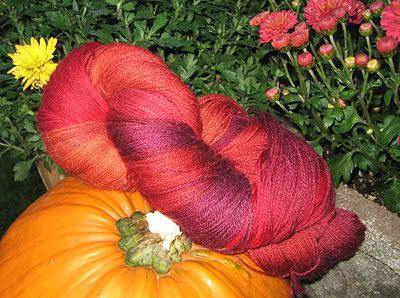 Other than that, I am just tickled pink that it is finally autumn. I look forward to these few months all year long. Knitting-wise, the only thing that I have going at the moment is (another) Noro hat. I'm still plotting my next project, but the odds are currently in Anne's favor. Mark and I will be traveling again over the upcoming weekend—to a friend's wedding in New Haven, CT, so I am going to need to have some good car knitting on the needles for that long drive!