Yarns By Design
Okay, knitters. Here's the scoop on the area's newest yarn shop:
I visited Yarns By Design today, which was the day of their grand opening. Also, it was the day of the annual street sale in my
quaint little town
. (Yes, we do have a large number of squirrels here...) Yarns By Design is a little out-of-the-way being off the main street and out of the main shopping district, but that means it has a fairly large space and lots of free parking. It's in the Oakmont Station office complex (see the address in the image above). Here's what the outside looks like:
And the inside: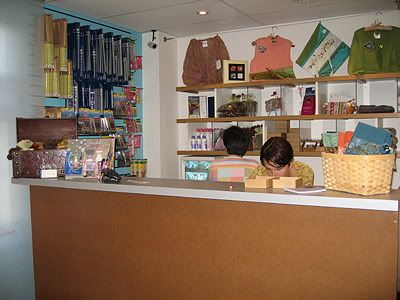 Hours:
Sunday and Monday: Closed
Tuesday: 10-6 (6-8: knit night)
Wednesday: 10-5
Thursday: 10-8
Friday: 10-5
Saturday: 10-3
Let's see. They had lots of basic yarns—Debbie Bliss and a good selection of Cascade yarns. They had lots of Noro, which made me very, very happy to see. There were yarns that I'd never seen or heard of (sorry, I of course don't remember what the names of those were). My only disappointment so far is that they didn't have much sock yarn. But, they are a growing shop, with lots more to come, so maybe that's in the future. There is a room in the shop that will be used for knit-togethers, and today it had a spinning wheel in it, so I am assuming that's where the classes will take place as well. There were gorgeous knitting bags, beautiful buttons and pretty pins that were sweater- and scarf-friendly. Of course, since I am an admitted Noro whore, that's what hooked me:
So sweet were the employees (I'm sorry I didn't get their names), that they threw in a measuring tape and a Eucalan sample. Here's a money shot:
In short, Yarns By Design looks to be a growing and wonderful shop. It definitely fills a need for a knitting shop in this area, and I can't wait to see what's coming down the line for them! I think I will be spending a lot of time there...
In other news, Green Gable is still coming along. I am finishing the waist-shaping now, and it should be smooth-sailing from here on out. The traveling socks are coming along. Jennifer (from the Beadazzled! 07/19/06 comments) - please do join us the next time you are in town! We get together every third Wednesday at the Waterworks. I'm off to take in more of our town's cool attractions. The new Woody Allen film is playing at our
local theater
and we're having dinner afterward at our local bistro. Great movies, dinner and yarn, all in one day? Viva la Oakmont!