Blah.
Blah is how I have been feeling for the past several days. I'm not getting a whole lot of knitting done as you can see: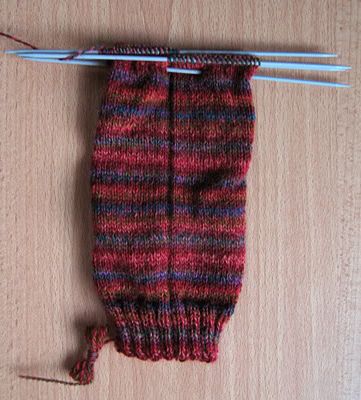 I should say that the photo is a little old though - since it was taken, I have knitted the heel flap and turned the heel. I did have a little pick-me-up on Tuesday, though. Lori and
SJ
and I made a visit to
Knit One
: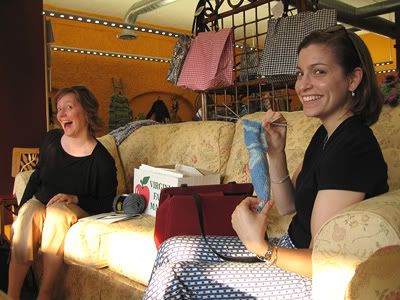 I have to say that even after
checking out the yarn stores in the big city
, none of them compare to Knit One. That's an owner and a store where they just get it. They are so helpful, and so welcoming all the time, without any exception (by the way, hope your chicken was okay, Sandy). And now, they even have a frequent yarn buyer's card! After knitting, we tried to go for Indian, but discovered that the Indian place was now a Thai place, so we had that instead. Thanks again, girls, for a great evening.
At Knit One, I got a skein of
Claudia's Handpainted
fingering weight yarn in Ingrid's Blues:
Unfortunately, they only had one skein of this colorway, but I could not resist it. It'll just be a pair of baby socks or something. I also bought something that I have wanted for a very long time: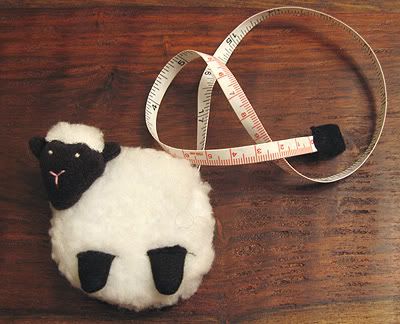 When I was a kid, I used to love to play with my mom's retractable measuring tape. I always thought it was so neat, but this one is even better because it's a sheep (obviously). Now, I don't have to worry about my tape unraveling onto the dirty floor of the bus as I am trying to measure my progress.
This last photo is for
Jenn
: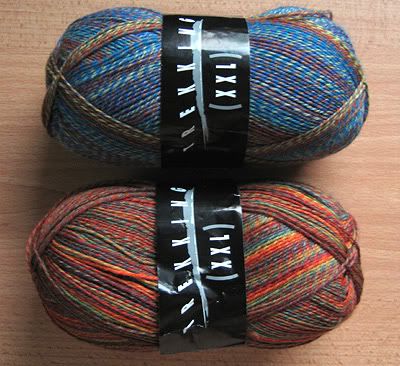 This is some Trekking XXL that I ordered from
theknitter.com
a month or so ago. That's color 108 on top and 110 on the bottom. Luckily, one of the things that I registered for when we got married was a baker's scale that measures in grams, which will make dividing the skeins pretty easy, I hope!
Due to a bunch of stuff going on at work and in general, I will probably be pretty scarce around these parts in the next several weeks, but I will update as I can. Hope that everyone is in better spirits than me and that all of your projects are going great!