You say it's your birthday?
As of today, One Small Stitch for Mankind is two years old!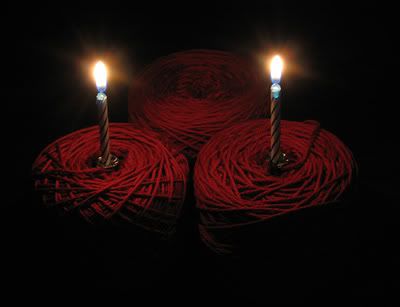 Thank you to anyone out there who has been with me through my knitting misadventures! I'm certainly not all that interesting, but I spent a little time yesterday going through the old blog posts, and it's nice to see the progress I've made over time (my first socks, my first sweater!), and that's the reason that I started to blog in the first place - to have an outlet to chronicle my knitting. It's not much, but it's a lot to me!
In honor of the blogiversary, I am having my first-ever contest.
One comment of any that are posted to this entry between now and June 14 will be chosen at random to recieve a special knitting-related package from yours truly. It's my way of saying "thank you" to those of you who have managed to stay awake while reading my remedial and innane posts!
The yarn cakes featured above? That's three skeins of Brown Sheep Cotton Fleece in Candy Apple that I have had for quite some time now: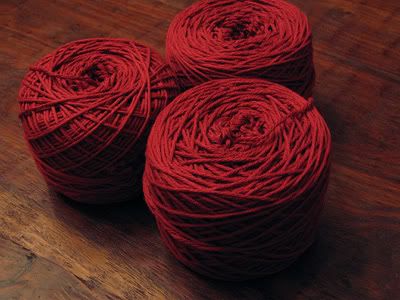 It's tried to be several things, but I've decided that its latest incarnation will be
Green Gable
. If the yarn requirements fit, knit it, right? Right. Wish me luck. I will need it to have the fortitude to finish another sweater.
In other news, Diakeito sock #1 is in the home stretch:
Hope all of the Pittsburgh bloggers have a grand time at
World Wide Knit in Public Day
this Saturday. I am pretty bummed that I won't be able to join you guys, as I will be in Virginia for the weekend. However, wherever we are that day, I
will
knit in public.