Beadazzled!
So, my Green Gable modifications went surprisingly well. I inserted a lifeline just before the waist shaping, ripped back to it, then re-knit it with a ssk and k2tog combo instead of just k2tog (which looked weird and lumpy). I also spaced out the decreases a little further apart, and that helped as well. No progress shot, because it looks exactly like the one in the last post. Except the sides look better.
Infant sock #1 is now finished and I am on the gusset of sock #2. And still no baby. SJ mentioned that it might be that I have the Harlot's baby knitting
ability
. Hopefully the baby will come before I finish her socks, because we all know how slow of a knitter I am.
The monthly SnB was tonight at the Waterworks Barnes and Noble, and we are seeking new recruits.
Our
group
has dwindled to three. But we are fun!! See how much fun we have?!?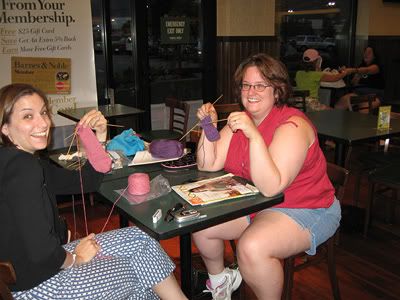 Props go to the girls in the background of this photo for having the coolest
beadazzled
hat and short short shorts. Also, there are many rich and colorful characters that you get to see!! Like the guy that was talking on his cellphone SO LOUD, and this guy: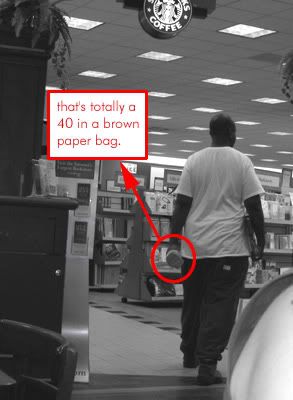 So, pretty please, won't you join us next month?!?