Ta da!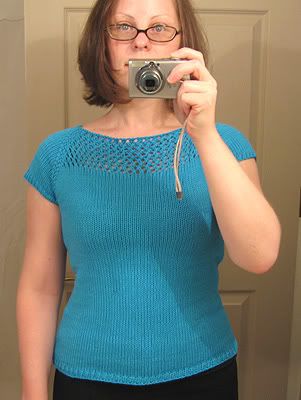 the obligatory mirror shot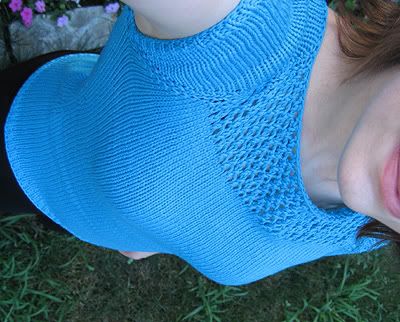 and trying to get one outside - not a great shot, but it does show the underarm and side shaping pretty well
Pattern:
Green Gable
, Zephyr Style, size small
Yarn:
Brown Sheep Cotton Fleece, Caribbean Sea, about two and a half skeins
Mods:
One less repeat of the lace than the pattern called for. Spaced out the decreases five rows apart instead of two and used a k2tog, ssk decrease instead of just k2tog. Added two increase rounds at the waist, three inches later and five rows apart - used lifted increases, both right- and left-leaning. Added about three inches of additional length. Picked up five additional stitches under each arm, which eliminated the need to sew up the hole that's created if you follow the pattern instructions.
Overall, I'm very pleased with this, and it's definitely the most wearable garment I've made so far. I wore it to work on Tuesday, then to knit night at Yarns By Design. Lori was there, and since she doesn't have a blog of her own, I feel obliged to blog about her newest FO, the Kittyville hat from Stitch & Bitch: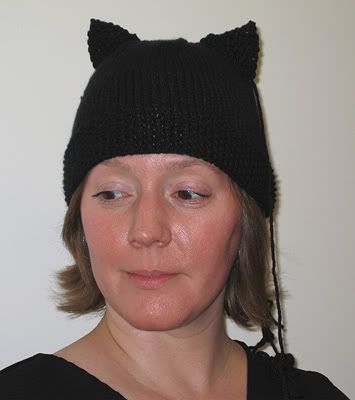 She'd just finished it when I made her pose for this photo. Other than that, I've got only the Koigu socks going on right now, and I am nearly finished with the gusset of sock #1. I bought some yarn at YBD for
Fetching
. I think those will come in very handy in the fall, so I guess I'd better get started!