How cool is this?
Several months ago, Mark requested another pair of socks. A pair of red socks. Because he has another pair of them that are holding up really well, and he likes the feel of the yarn, I tried first with some KnitPicks Sock Memories in the colorway Redwood Forest. That yarn just
pooled like the dickins
, and wasn't half as pretty in person as it was on the KnitPicks website, I thought. I poke in on
Jessie's
blog and her online shop,
A Piece of Vermont
, from time to time. I'd never placed an order before, but her colors are beautiful and the yardage in her skeins is amazing, so I looked there and found this lovely yarn, in a colorway Jessie calls Lipstick: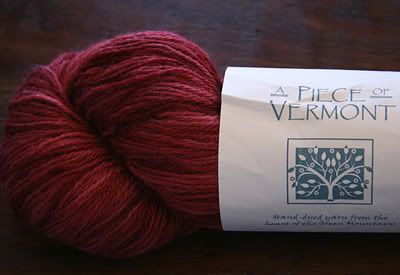 You can't really tell from the photo, but the yarn has some spots of lighter red/pink in it, so the husband vetoed it (more for me!).
A couple of weeks passed, and I looked at several different yarns that I liked. There was Koigu, but the yardage in two skeins just wouldn't be enough for his size 12 feet. Lorna's doesn't appear to make a true red. Ditto for Claudia's.
One day, when looking for other people who'd knitted Lady E in Silk Garden 203, I came across
this amazing knitter
and her blog. I spent probably an hour or more perusing her blog. Her knits are gorgeous, and everything she knits looks fabulous on her - she should be a knitwear model!
In the process of perusing, I noticed
these socks
, and I absolutely fell in love with the colorway, from
Yarntini
. So, I check out Yarntini's web site, and notice colorways called Three Rivers, Steel City, etc., and realize that this person must be in Pittsburgh! I emailed and asked about the colorways, and Jessie at Yarntini told me that she could do a special order for the yarn. I placed my order, and then a light goes off in my head. I asked her if she would custom-dye a man-approved red, and she did!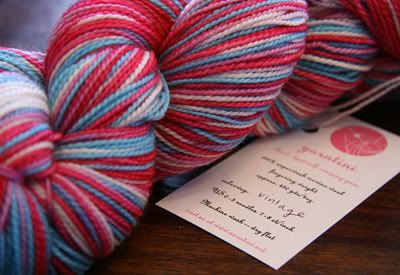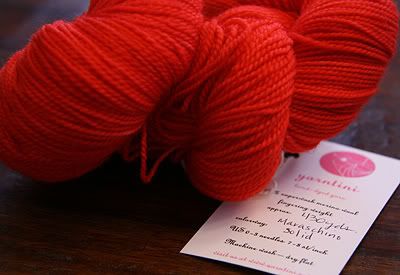 A color just for Mark! Well, not really
just
for Mark. Apparently Jessie was pleased with it and dyed a bunch of skeins, which appear to have sold like hotcakes at her Etsy shop. Thanks, Jessie - the husband loves it!!
Lady E is cruising along. We both hope to see you Pittsburgh knitters this Wednesday at the Waterworks Barnes and Noble for knitting night. We start around 7 - see you there!
Labels: Lady Eleanor