Progress.
I know that it might be a novel concept here at OSSFM, but I actually have some progress shots!
Um, I know that it doesn't really look like I have made any or much progress on Lady E, but I promise you that I have. I originally cast on for one more rectangle than the pattern called for, thinking I would make up the width that way for using a finer weight yarn. After I'd finished two tiers, I looked at it and, not only was it wiiiide, there seemed to be no chance that I would actually be able to finish the thing in my lifetime. So, I ripped and cast on for the recommended number of rectangles. I'm three and a half (a little further than the photo shows) tiers in, and it's looking like it will be plenty wide, at somewhere around 20 inches, not accounting for any extra width from blocking.
Also, there's this: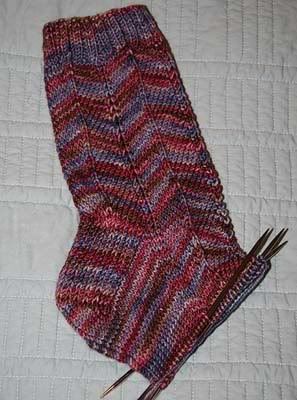 Now I understand why so many people have made multiple pairs of these. So easy and so satisfying!
Labels: Lady Eleanor, socks