A sock beginning...
Last night I sat down, cleared my head, and finally figured out the "aloha" sock cast on:
It was pretty easy once I got the hang of it. So fiance's socks are on the way! Here is a photo of my gauge swatch in the round: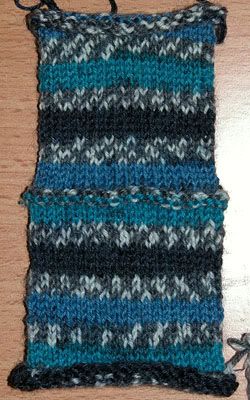 I knitted the bottom part with size 2US needles, then purled a few rows and switched to size 1 needles for the top. I got 9 sts to the inch with the 1s, and a nice strong fabric, so that's what I am using. Since the socks are toe-up, I am starting with the hard part and all of the increases, but I can't wait to get to the "mindless knitting" part. I am definitely not a knitter who enjoys a challenge. I think I like the action of knitting more than the finished product. Which reminds me of a scene in one of the best movies of all time, Delicatessen, where an old granny is knitting, and a machine is constantly unwinding and re-wrapping the bottom of her knitting into the ball she's knitting from, so she never gets anywhere. Not a great explanation on my part, but making me smile just thinking about it.