Cathy...one week later.
Here's where I am on Cathy (aka, the Fiery Bolero):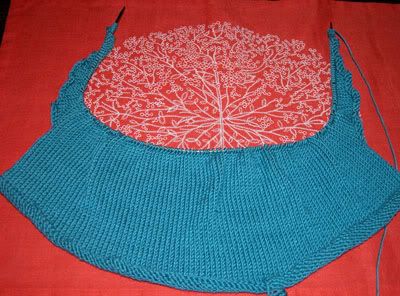 So far, it looks a little small to me, but I think it's deceiving, since it is all bunched up on the needles. I am glad to say that I have finished casting on for the sleeves and there's no turning back (ripping) now, even though I still think that my stitches look horribly uneven. I am hoping for a blocking miracle (or to become less anal by the time I have finished).
One ball of yarn took me up the the sleeve cast on and I am ready to start a new one. Here's a question for any of you out there: how should I join the new yarn? This is a cotton/silk/viscose blend with many plies, and is pretty slippery. Do I start the new ball at the beginning of the next row, or should I use a russian join? I was initially thinking russian join but wasn't sure if that worked well with slippery cotton yarn. What say you?