Hello, Koigu!
What to do on a dreary Saturday in Pittsburgh? Why, take a tiny road-trip to a yarn store you've never been to before, that's what. I know it's sad and pathetic, but, being an East Hills girl, I confess that I'm scared to drive in the North Hills. Just thinking of McKnight Road gives me the chills. So, I talked fiance into driving me to
Dyed in the Wool
to check it out for the first time. To my delight, I found this: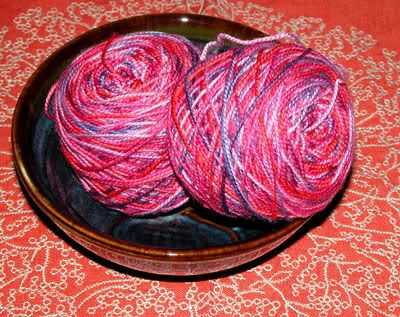 Koigu!! They also carry Lorna's Laces yarn, and I had a very difficult time deciding between the two. I decided that it would be good motivation to finish a pair of Koigu socks if I knew that my reward could be to go back to get some Shepherd Sock when I was done. I loved this shop, and I enjoyed chatting with the very friendly owner, Carol, for a bit. She carries a lot of yarns that the other LYSs that I frequent do not and she happily winds yarn into balls for you! The best part is that fiance (who grew up in the N. Hills vicinity) showed me a way to get there that entirely avoids McKnight road. Woo!
With Lori's assistance, I started on the lace scarf last week. I don't know about this yarn with this pattern (Knit Picks Alpaca Cloud). Lori's is beautiful: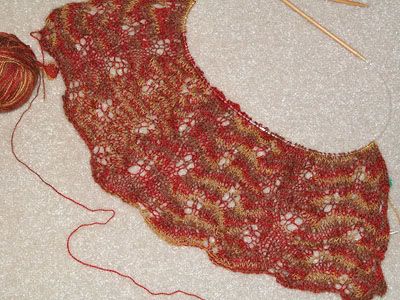 And mine just looks like a big mess: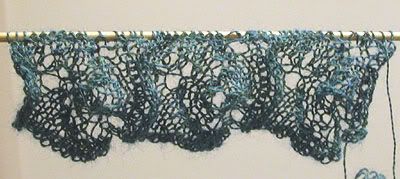 Maybe if I switched to a smaller needle it would look better- I don't know. I am going to finish at least two repeats and then decide whether or not to rip it out and try a different yarn, or try this yarn with a different needle size and/or pattern. The good thing is that the pattern is relatively simple, as Lori assured me, even though I was way intimidated by it at first.
Yesterday, I decided that I must finish Grover once and for all, so I spent my lunch hour finishing the second sleeve, only to realize that I started the decreases and garter stitch at the end of the sleeves on the top of the sleeve, instead of on the underside, as I did with sleeve #1. I spent my bus ride home ripping that and a little time last night re-knitting, so I am so, so close to finishing. I plan on finishing the last rows and binding off today, then I thought I would weave in the ends and sew on the buttons, but lo, the buttons that I purchased a few weeks back have magically disappeared. Sigh.