Too cute...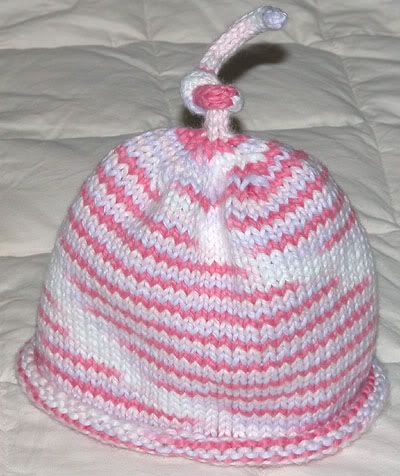 Umbilical Cord Hat pattern from Stitch and Bitch
yarn: Bernat CottonTots in Very Berry
needles: two 20" addi turbo circulars, size 4.5mm
This was a very fast knit, even for slow knitter me. Now back to Grover. I promise.
Thanks to
Tara
for your comment on the hat-in-progress. Anything pink and for babies is sweet, isn't it? I don't think I've blogged too much about it, aside from the occasional mention, but we're getting married on October 1st. When we got engaged in December '03, I thought I had so much time to plan the wedding, but it's coming up really fast and I have so much to do that it's a little alarming. I see you're getting hitched as well- when's your big day? And the beginning of your paisley lace shawl is gorgeous!