Finally...
The long-awaited yarn makes an appearance: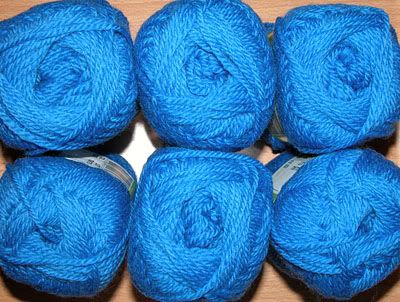 It's a little, er,
bluer
than I was expecting. The photo of the sample card made it look a little less electric, but I think it is too late now to send it back and get another color. It's still cute though- reminds me of
Grover
. I am planning to cast on for the sweater today and hopefully I will have a lot of time this sunday to sit down and make some progress on it. Unfortunately, this means that the socks are on a temporary hold. I am about a half an inch before starting the gusset increases, based on my formula, which
Mary Ann
was nice enough to clarify for me. As I had figured out the numbers previously, the socks would have been two inches too short, which would have made for some very uncomfortable socks indeed!