Sluggish socks
Here is a progress shot of the socks as of last night: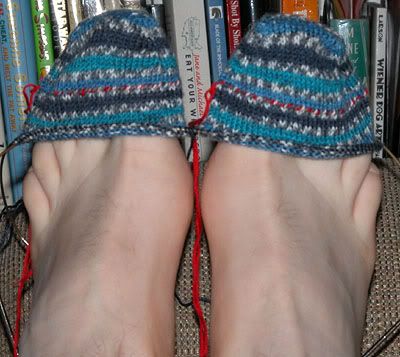 Fiance was a little embarassed to have his feet out there for all the world to see, but I keep making him try them on in progress to gauge the fit. Those red lines are my "lifelines" and mark where I finished the increase rows and started the straight, mindless knitting part. I think I need to start the gusset increases soon, but I am not sure if my calculations are correct, so I will be seeking advice on that. I am pretty pleased with them so far- they are matching nicely and look like they will fit. I am wishing again for the hundreth time though, that I had started with socks for myself, instead of for fiance's gargantuan feet.
I finally placed an order with
Knit Picks
for some of their sock yarn so I can start swatching for a pair of socks for myself. While I was there I picked up a skein of the Alpaca Cloud in a very pretty blueish-greenish color that I hope really looks like that in real life. I was suckered in by a pattern on the page of a cute little scarf from
Last Minute Knitted Gifts
that reportedly only takes one-third of a skein of Alpaca Cloud. I don't know if I will use that pattern or make up something of my own from my knitting stitch dictionary, but I would like to make a cute little lacy scarf that is similar to the photo.