Slogging away at the socks
My socks are finally starting to look like they have toes!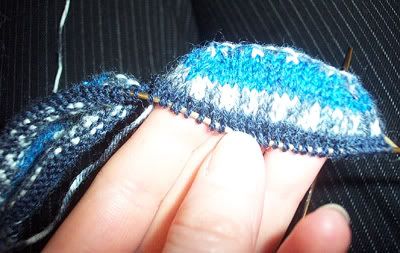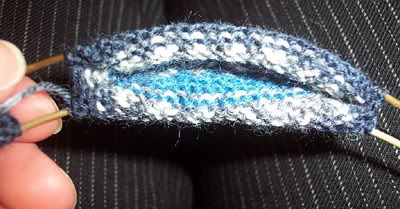 Not great photos, but you get the idea. According to my calculations, I have four more increase rows before I can get to a mindless knitting part. I am definitely going to have the fiance try them on before I do that though- I just love try-on-as-you-go toe-up socks! I'd also like to send out a big thank you to the girl sitting next to me on the bus this morning. Nothing makes doing a left lifted increase easier than someone's elbow jabbing into your ribs. She was sitting down. With her hands in her pockets and elbows pointed out to the sides. Who sits like that on public transportation? Well, her, obviously, but still.
SnB last night was a blast. I got to meet two knitters who hadn't been to the group before, Lisa and Jenny, who is a fellow avid blog reader. The group was small last night- only six of us, but I am sure we still managed to annoy the other B&N cafe patrons with our cackling. I wish we got together once a week at the Waterworks, but that's just me being selfish, since it is the closest SnB to me. I need to start going to the Monroeville knit nights again.
Also, thank you to
Jill
for your suggestion on appropriating yarns to try something else. Unfortunately, I think I just like to buy things, and new yarn and new needles are some of my favorite things to buy. Damn my capitalistic nature! Of course, once I buy them, I need to play with them, so the other things that I am knitting get pushed aside. I still like the projects. I just have an unfortunately short attention span when it comes to these things. And oh, a Koigu Clapotis- I can't wait to see a pic of that!