People just keep having babies...
Must be something in the water. Here is a hat that I started yesterday (after an unfortunate day of yardwork) for a charming new girl named Isabella (don't you love that name?):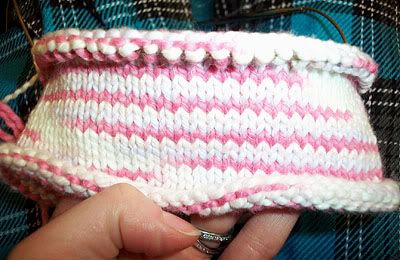 There's nothing like knitting for little girls, don't you think? I'm following the "Umbilical Cord Hat" pattern from Stitch n Bitch and using Bernat Cotton Tots yarn, which is so nice and light and cottony that it just screams springtime. I love the colorway too, but the photo doesn't do it justice. It's a nice quick break from the wool baby sweater for sure. Speaking of Grover, I neglected it while I was sick last week, but I've got about 1-2 inches of sleeve left to go, the ends to weave in and the buttons to sew on, and that's it. In other knitting news, I started the "Branching Out" scarf from the latest Knitty with my previously-blogged-about Alpaca Cloud yarn, but my gauge is off (too loose to really see the lace well) and I ended up three stitches short in row seven, so I put that away in disgust. I purchased some smaller needles and will take it up again soon, since it really is a pretty pattern.
In wedding planning news, we've booked our first activity for the honeymoon! On October 5, we'll be taking a tour of the
Old Brewery
in Tadcaster- birthplace of Samuel Smith's Nut Brown Ale, fiance's favorite beer. October 5 is also fiance's birthday- what a birthday gift!