Turning over a new leaf
You know what this is, right?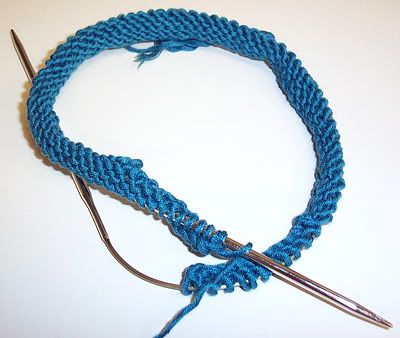 This is, I think, about the 15th time I have re-started the fiery bolero. No joke. So here's my new mantra: Don't think, just knit. You see, in my anal obsessive-compulsiveness, every time I started this thing and got about 2-4 inches in, I would look at it and think, "it's uneven" or "the gauge is too loose" and then "the gauge is too tight" or "this is the wrong size, it's not going to fit". So this sweater, which should have been finished by now, is just barely started. From now on, I am going to not think, just knit. If it turns out to be the wrong size, I'll deal with it then. It hurts me to say that, really.
So the new Knitty is out, and it's all guy stuff. Though there is a cute bag (and I guess lots of other stuff) that could be unisex. I do like the tiny cargo pants- those are way cute- but there is nothing there that I think I'd want to knit, which is a little bit of a letdown to me, but great for all of the knitting guys out there or the knitting gals that are sweet enough to knit things for their man (mine's never getting anything bigger than socks).
I'm still experiencing inordinate amounts of wedding stress. As I type this, I am waiting for the stationary shop to call me and tell me that my proof for the invitations has (finally) come in, but so far, that call's not coming. I was on theknot.com (evil site, that is) last week and saw a message post by another October 1 bride who has her invites addressed, stamped and ready to go. I don't even have mine yet. Not that I'm panicking, you know. (send a paper bag)