Me + pattern re-working = no good
I sat down on Tuesday for one frustrating hour, trying to re-write the pattern for the Fiery Bolero to use the Cotton Fleece yarn and realized that I am no good at revising patterns. So I did it. I ordered the
Cathay
. I thought the red looked a little
too
fiery, so I was about to order the black when I thought, "What the hell. If I'm splurging on yarn, I might as well order a real color, right?" So I ordered the very pretty teal blue. I am anxious to see/try this yarn. I'm normally a cheap yarn ho, and the last time that I splurged on some cotton and silk blend yarn (Rowan Summer Tweed), I absolutely loathed the yarn by the time I was done knitting with it and I never wear the tank I knitted it into. I really love this sweater, so I am hoping that doesn't happen this time.
Last night was Knitting Meetup- here's a shot of the crew: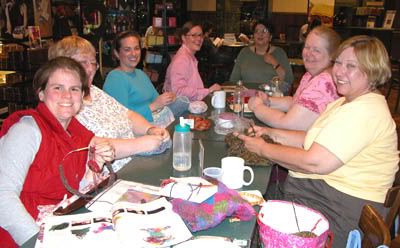 from l-r: Jane, Mary Ann, Nicole, Lori, Michelle, Connie, Linda
Knitting was done, conversations were had- it was a great time, as always. I worked on the Morehouse scarf kit (thanks again
Jill
!) but was running my mouth way too much and ended up with some very sloppy knitting, so I think I will re-start that today.
I'll leave you with a link to the
Retail Alphabet Game
, which really was harder than I thought it would be. I scored as follows: v.1: 10; v.2: 15; v.3: 13; v.4: 10.
Have a great weekend everyone!