Grover, c'est fini!
I present, the Grover:
That's a baby sweater and (too cute!) socks knit in
Shepherd Colour 4 Me
, color 1879 (which appears to be discontinued), using a
fabulous pattern designed by Carole Barenys
and an
equally fabulous pattern by Dilys Sutherland
. This is the second time that I have used the sweater pattern, and I just love it. It's written very clearly and has minimal finishing, which is the best part about it!
For my next trick, I will be attempting Debbie Bliss's Fiery Bolero pattern from Interweave Knits Summer 2005 in Brown Sheep Cotton Fleece: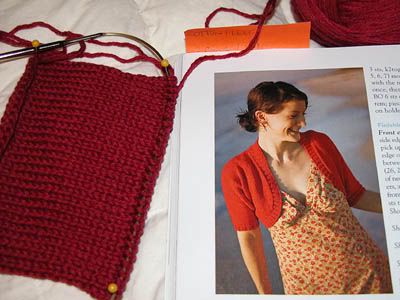 I say attempting, because the pattern will need a little re-writing to use with the Cotton Fleece (which has been languishing in my stash) instead of the recommended Debbie Bliss Cathay. I've never tried to re-write a pattern before, so it should be interesting! I'm also still working away on the socks for fiance. I was going to swatch the Koigu for some socks for myself also, but I'm putting that on hold to start this: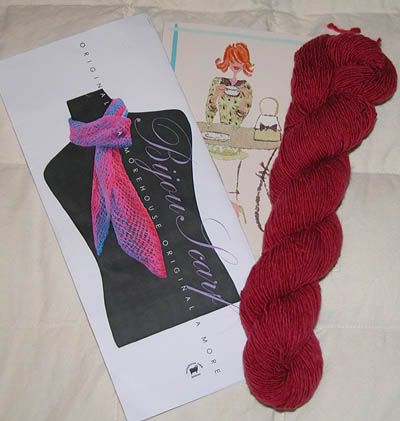 That's a Bijou scarf kit in Morehouse Merino, sent to me by the lovely Jill at
Purl Up With a Good Yarn
for being the 500th comment on her site. Thanks Jill- I absolutely love the color (very similar to the Cotton Fleece) and can't wait to start on this! I'm constantly wearing a scarf at work because it is always so cold in our office, and this will make a nice light summer scarf for the office. You're the best! I'd love to get together sometime to knit and talk to you about London and what to do there (fiance and I are going to England for our honeymoon in October).