To rip or not to rip...that is the question
Well, I received my Cathay and eagerly swatched for the Fiery Bolero (in my case it won't be very fiery, though):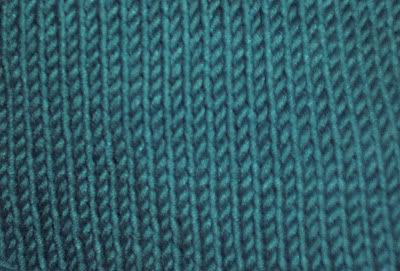 Buying this yarn was totally worth it. I adore the color, and other than learning to deal with the splittiness, it's a pleasure to knit with. I got gauge perfectly with my swatch, I took my bust measurement (35) and decided to knit the size 35 (there's also a 36.5). I am happily knitting away and things are looking good, and decide to google and see who else is knitting this. I come across Shobhana at My Life in Stitches,
who's made a size 36.5
. Now, I am not a big girl by any means, but Shobhana appears to be teeny tiny and the 36.5 appears to fit her like a glove. I panic. I google some more and find another finished bolero by
Sandra of I May Be Knitting a Ranch House
(greatest knitting blog name ever). I email Sandra and she sweetly emails back to let me know that she knit the 36.5 as a gift for her mother. However, the fit looks very good on her (maybe a tiny bit big), and we appear to be of similar shape and size, so I have the sinking feeling that there is some ripping in my future. Sigh. I just really want this to actually fit, so I believe that I will be starting over today with the 36.5.