Cathy...Week three
Went to Meetup last night and had a great time. Though, it appears the group is shrinking: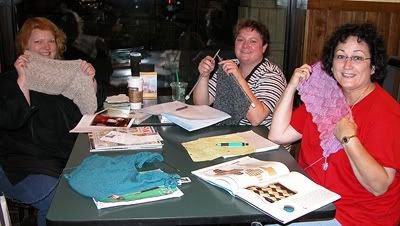 Hope it's just summer vacation related shrinkage. Anyway, we had a great time. Left to Right: It was nice to see Cathy again (not to be confused with Fiery Bolero, aka Cathy), who's working on a lovely lace scarf in this photo, with a merino/cashmere blend yarn that was so, so soft. It was nice to meet Betsy, who came to meetup for the first time last night and was working on a lovely wide scarf of her own design. And, of course, it's always nice to see Patty, who was working on some entrelac in a pretty variegated yarn that reminded me a little of Noro (my first love). That's my Cathy, reclining on the table in the foreground. Here's a closeup: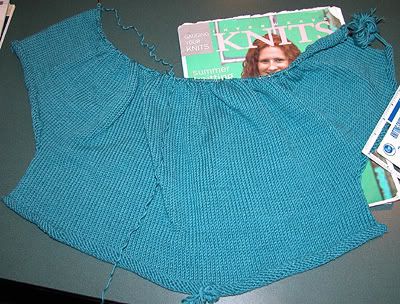 Still plugging away at it, and I am less than one inch from the part where I bind off for the neck and divide for the fronts, which is great, because those long rows are killing me. It's obvious that I could never knit a blanket or an afghan or something like that.
For all of you Pittsburgh knitters who may be tuning in, you know that
Bonnie Knits
is having a sale, right? You all should go and buy lots of yarn, and then post photos of what you bought so that I can live vicariously through your yarn shopping experiences. I am afraid that all of my spending cash is, from now on, going to THE WEDDING. Although, I do have to buy some bamboo needles to take on the plane, right? Hmmm...