Thar she grows...
Cathy's coming right along: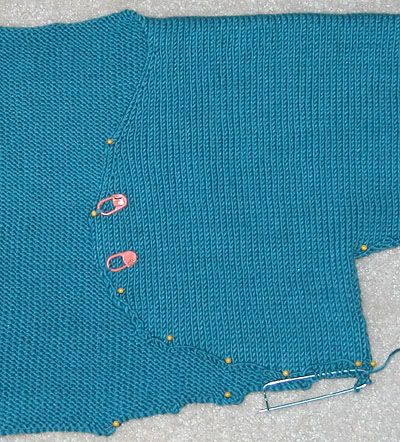 The edges look so ragged due to the increases, though I am hopeful that the ribbed edging will look nice and smooth. Becky, aka Skinnyrabbit, has finished
hers
and (of course) it looks great and is making me even more excited to finish mine. The front parts have been a lot more fun to knit than the back and I can get several rows done while on the bus instead of just two or maybe three. I just might be able to finish this in time to wear it this year!
In other knitting news, a co-worker sent me a link to
this
today. How cool is this? Now if only she'd team up with Skacel for an Addi version!
On a final note, fiance and I are so excited as wedding gifts have started arriving in the mail. Though I wasn't so excited last night when I saw this:
Thankfully, there was nothing breakable/smashable/bendable inside. They must have used this to keep the truck door propped up in the back or something.