Not feeling it.
Have you ever, you know, not been feeling it? Your knitting, I mean.
Here's the situation. I've been trying to get a new pair of traveling socks going, but every time I start a pair, I'm just not feeling it. A couple of months ago, I started these: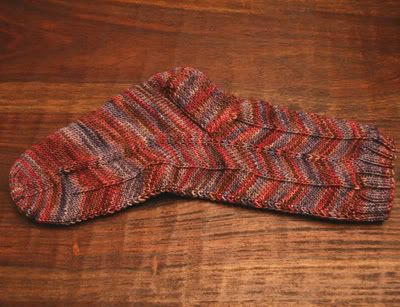 with the Koigu that just insisted on pooling. I tried a different pattern than my normal plain sock pattern, and for a while, I was infatuated by that Jaywalker. Alas, by the time I got to the toe, the infatuation was lost, and so was my interest. I'll make the mate to that sock. Someday.
I yearned to go back to my plain socks, so I tried casting on with some yarn from the stash - a bright and cheery Trekking XXL. I didn't even get past the cuff ribbing before I lost interest.
Despite the fact that I have a good amount of sock yarn in the stash that I remain absolutely in love with, nothing was calling to me. I thought that maybe I needed to knit with some new and exciting yarn - squishy, woolly and lovely yarn, and bought this Claudia's that had been calling my name for some time.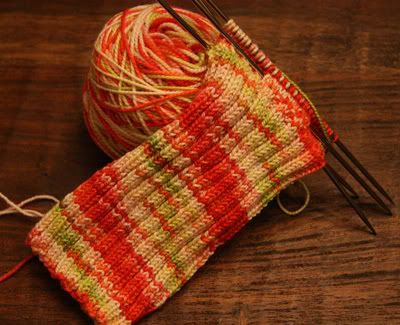 Jenn
and I once had a conversation about how we insist on buying variegated yarn, only to be disappointed with the pooling or diagonal striping (and yet we keep buying it). I'm not sure what I thought was going to happen with this yarn, but just look at those big, fat, spooling stripes. Sigh. I think this yarn maybe needs a different pattern.
I started feeling a little down on sock knitting. Would I ever knit another satisfying pair of socks? I tried the "buy new and exciting yarn" tactic again, and although there is
some
pooling/striping going on, this yarn has held my interest so far: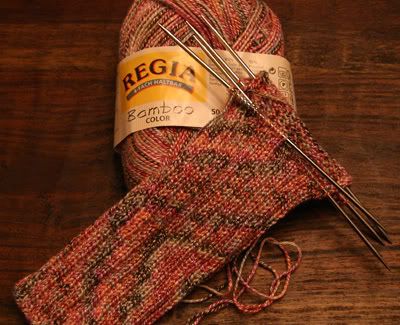 By the way, that's Regia bamboo sock yarn from
Yarns By Design
. I'm trying to have these finished to be a birthday gift before the end of April, so wish me luck!
To further complicate matters as far as knitting time goes, I'll be losing my weekend to prepare for some upcoming housework. We're having new wood floors installed next week, so with any luck, by the end of the month there will be a finished sock photo with me sliding across our new carpet-less floors à la Risky Business. Kidding.
And to close tonight, the obligatory Lady E progress shot: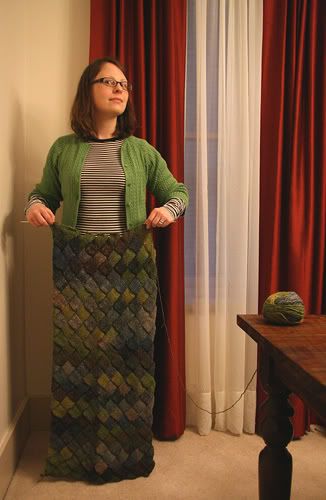 Labels: Lady Eleanor